Cumberland County Artists' Day
All event dates and times are subject to change. Please check back often.
See our Facebook page for current updates closer to each event.
Email Us: mauricetownhistorical@yahoo.com
Artists' Day - Saturday, September 10
10 am to 4 pm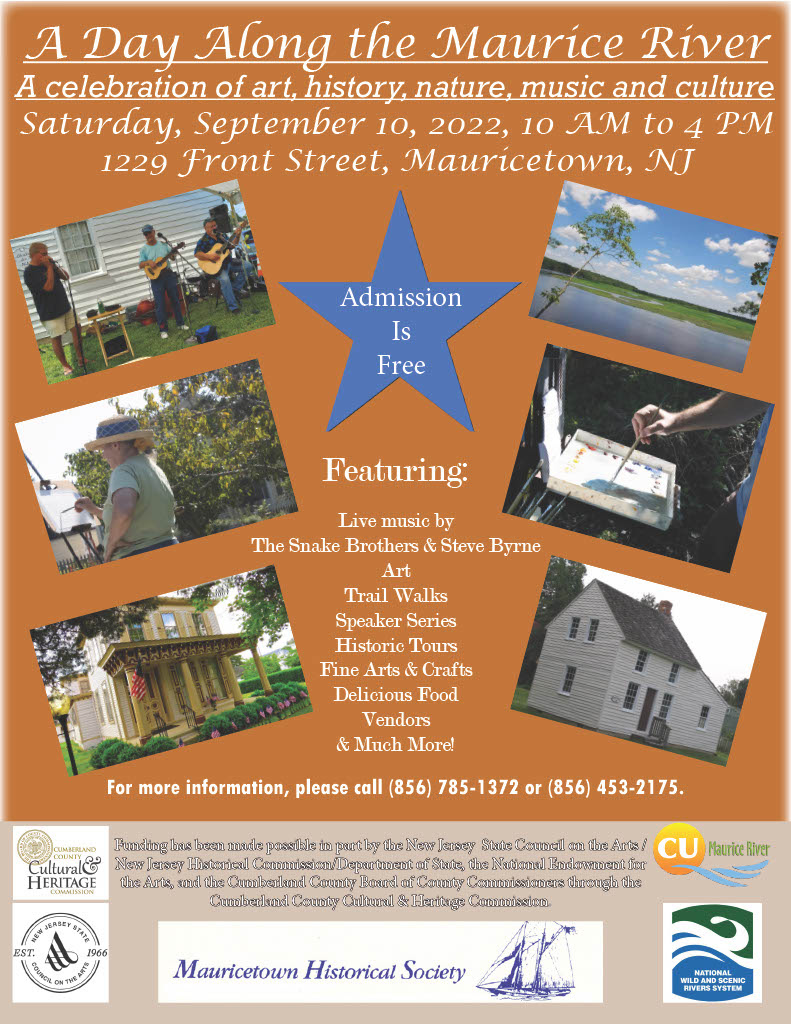 Come to Mauricetown on September 10th 
to celebrate the unique natural, cultural, and scenic resources of the Wild and Scenic Maurice River.
ADMISSION IS FREE!
Read below for more information.
WHEN
Saturday, September 10th
10:00 a.m. - 4:00 p.m.
WHERE
1229 Front Street
Mauricetown, NJ 08329

Cumberland County Improvement Authority, Mauricetown Historical Society, and CU Maurice River have partnered up to offer live music, guided trail walks, speaker series, historic village tours, fine arts and crafts, hands-on activities for kids, delicious food, and more.

During the festival, artists will be set up all around Mauricetown using the landscape as inspiration to create works of art. The admirer can even purchase their works! Outdoor educators will be leading walks at two nearby nature trails in addition to the "manned" observation stations. All the while, a speaking series will be held inside the historic Mauricetown church, which will feature a talk by Pete Dunne. 
Speaking Series:
The speaker series will take place at the historic Mauricetown United Methodist Church, built in 1880. Its very prominent 101 ft. steeple guided many sea captains up the Maurice River on their return home.
The series includes a talk on one of southern New Jersey's National Park units, the Wild and Scenic Maurice River, by CU Maurice River Executive Director Karla Rossini. Robert Moore of the Mauricetown Historical Society will connect the audience to days of old when Mauricetown was a bustling ship Captains and boatbuilding village. Pete Dunne, a.k.a. "The Bard of Birding," will live up to his nickname with his stories of the Maurice River's iconic raptor, the osprey. Pete Dunne is a retired director of the Cape May Bird Observatory, a post he held for 36 years. He is also the founder of the World Series of Birding and author of over twenty books, including Bayshore Summer whose focus is New Jersey's Delaware Bay region. Directly after the presentation, a book sale and signing will be hosted at the church. So don't forget your copies!
WHEN
Saturday, September 10th

WHERE
Mauricetown United Methodist Church
9574 Noble St.
Mauricetown, NJ 08329
11:00 a.m.
Let's Talk:
Down Jersey's Wild and Scenic Treasure
by CU Maurice River's Executive Director Karla Rossini

12:00 p.m.
History of Mauricetown by the Historical Society's
Bob Moore

2:00 p.m. - Keynote
Meet the Osprey:
The Emblematic Bird of the Maurice River by Pete Dunne
*Pete will be doing book signings just before his talk and after