Friends of the Mauricetown Historical Society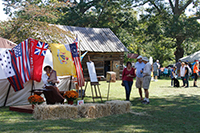 SPEAKER SERIES IN JANUARY, 2019
will be held on Sunday, January 13, 2019—2 to 4 p.m.
at the Warren and Reba Lummis Genealogical & Historical Library, located at 981 Ye Greate Street, Greenwich
The guest speaker, John Seabrook, will speak on "C. F. Seabrook:
Construction Engineer, 1920 – 1931."

MOVIE NIGHT AT THE WARREN & REBA LUMMIS LIBRARY
will be held on Friday, January 18, 2019—6 to 8 p.m. at the Warren and Reba Lummis Genealogical & Historical Library, located at 981 Ye Greate Street, Greenwich.
The movie is a screening of Charade with Audrey Hepburn and Cary Grant.
Light refreshments will be served. Free admission!
Please call the office (856-455-8580) for additional information.

SPEAKER SERIES IN FEBRUARY, 2019
will be held on Sunday, February 3, 2019—2 to 4 p.m. at the Warren and Reba Lummis Genealogical & Historical Library, located at 981 Ye Greate Street, Greenwich
The guest speaker, John Fea, Ph.D., will speak on "Remembering the Greenwich Tea Burning."