A Halloween Ghost Walking Tour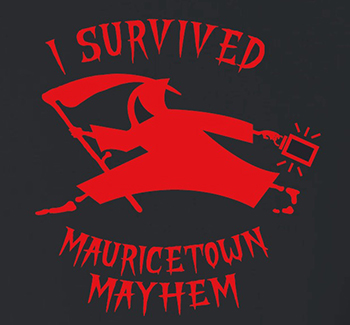 T-SHIRTS and HOODIES
Click Here to BUY NOW!
We have tee shirts and hoodies available:
Tees: S-XL $20; XXL-$23; XXXL-$24
Hoodies: S-XL $35; XXL-$38; XXXL-$39
Shipping and tax may apply
Thank you for attending.
Mauricetown Historical Society will once again host our friendly and not so friendly other worldly "residents". They want to tell their stories from long ago. Stories that must be told with the help of their guides. Tales of seafaring captains and misfortunate residents will be shared as they take you along the dimly lit streets of their seafaring village.
They will only be visiting our earthly plane on Saturday, October 30th starting at 7:00pm. Their guides can be found at the Compton House 1229 Front Street. If you want to enjoy their stories, please park your earthly vehicles in the parking lot of the Methodist Church. Please pause at the church to say a quick prayer for these poor souls that they may reenter their world at the stroke of 9PM when they must depart. Signs will help you find your way to the Compton House.
Our "residents" request that you support us, their host, the Mauricetown Historical Society with a $15.00 per person fee which includes donut and cider after the tour payable below.