Outreach Programs
People visit the Mauricetown Historical Society headquarters, the Edward Compton House Museum annually - we are an all year organization. Some stop in while exploring the Coastal Heritage Trail or any of the other local attractions.
Everyone is welcome to attend our monthly meetings on the third Tuesday or our many special events.
Each year the society presents educational awards to fourth grade students in the Commercial Township school district for exemplary history projects relative to our township. The award winning projects are displayed in our museum or in the post office windows.
The society supports the Port Norris Library, the Port Norris and Dividing Creek Historical Societies, the Mauricetown Fire Company, and the Citizens United to Protect the Maurice River. We also continue to be a valued community asset as well as a working neighbor providing historical perspectives for projects and events in the area.
Volunteers who are over age fifty-five tabulate their hours of service for the Cumberland County RSVP (Retired Senior Volunteer Program) a county assistance program for seniors.
The society's museum is used as a focal point and tour destination for many groups throughout the year, especially students of historic architecture. Historical society delegations from other New Jersey communities also make their way to Mauricetown to attend the Cumberland County Neighborhood Leadership meetings.
The Mauricetown Historical Society has been featured in television advertisements for the Cumberland County Tourism Bureau and in many local newspaper articles noting particularly our many restoration efforts.
The society maintains a research library, including volumes of genealogical information, for free use by the public. Each year numerous visitors come to search for their roots in this part of Cumberland county.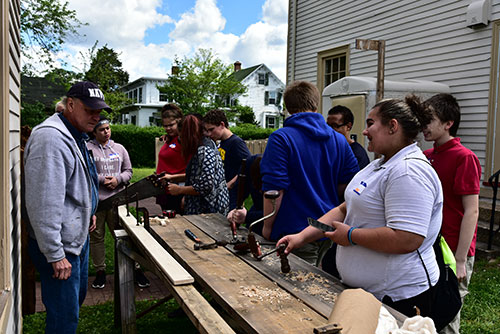 As part of our outreach program we host a visit by the eighth grade students from Haleyville School. The students are introduced to life in the mid-19th century by touring the houses, participating in laundry day and working with genuine antique tools.