Mauricetown Collection
Our collections are defined by objects acquired, accessioned and preserved because of their historic significance and educational value. Artifacts belonging to the historical society which may be used in accurately portraying the life and times of the people of Mauricetown, New Jersey. If you have an item to be considered for our collections please contact us.
Click Here
Visit Us. See our collections.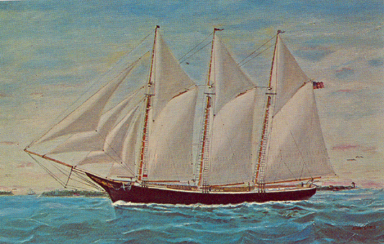 Southern New Jersey Schooner
Painting by Harry R. Stites
Hundreds of these sailing ships were built in shipyards on the Maurice and Cohansey Rivers from 1830 to 1900. The schooners were used in coastal trade from Nova Scotia to South America. They were the common carriers of their day.