Events and Activities

All event dates and times are subject to change. Please check back often.
See our Facebook page for current updates closer to each event.
Email Us: mauricetownhistoricalsociety@yahoo.com
Mauricetown Historical Society House Tours
Learn More
Christmas Event.

Mauricetown Historical Society's 33rd Candlelight Tour will be a VIRTUAL TOUR starting on Saturday December 11, 2021...
Learn More
See MEETINGS for More Actvities
The 2021 MAURICETOWN MARITIME MAYHEM GHOST TOUR WAS A RESOUNDING SUCCESS. 93 PRE-SALE TICKETS PLUS 16 AT THE DOOR. SEE THE REPORT BELOW.
A great big thank you goes to Seth for without his technical capabilities (and spooky voice) we would not have had a "superior production". A special thanks to Bob for his diligent "rebuilding" of the Cook House; thanks to the grim reapers and their timers: Peter and Eddie, Ross and Dee, Ron and Melissa; to Rachel Cobb for her website work; to Eileen Bennett, Libby, Kathy Smith and Kimberly for posting in print and on social media; to John Lore and Mary Cook for their 2019 photos used to advertise this year's ghost tour. 
Thanks to Pastor Erik for the use of the Church parking lot and the front of the church for the steeple story; to Darlene and Carolyn for giving the treats to the survivors; to Eileen Wiggins for helping me with registration, to Kimberly and Joe for the use of the front of their DEAD ZONE house, to Shawn Quigley, the organ player, and to Ron Jr. and Ron, Sr. for safe roads and entertainment.
Thanks to our cast of characters: broom witches: Michele and Cindy, the roaming witches, Deirdre and Jennifer, the McBeth witch, Judy Moore; to our Palm Reader, Kathy Smith, to our porch ghosts, Eileen and Chick, to Captain Candy, John, to Wyatt our little ghost boy, and his support staff, Mary Ann, to the post office ghost, Paul, to our roaming dead lady, Kim and our little ghost girl, Caileigh and to her mom, Julie, for her scary makeup and hair.
Many, many thanks to everyone who helped decorate and undecorate!!! And we all give thanks to the one player that we had no control over but made the night spookactular: mother nature for the best weather.
Peace and Love
Julie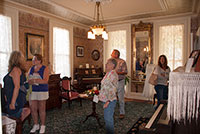 Tours of Historical Society Properties
Learn More
Tours will start on Sunday, September 19, 2021.